Legal issues arising out of the use of listservs, online forums and social media sites can be addressed to properly manage the associated risks. This checklist covers the terms an organization should include in a social media policies. General The policies are in writing and appear prominently on the site, preferably located in the forum or social media site, or distributed by email to the listserv users upon subscription. The policies make it clear that access to and use of the listservs or forums is specifically conditioned upon acceptance of and adherence to the policies. The policies specify that violations could result in ...
Continue reading...
Policy and legal challenges arising from the growing use of social media sites are making the news almost daily. The ease with which groups can be created opens new opportunities for businesses and associations. However, each new trend poses its challenges. Technological advancement runs ahead of the law, so calculating risk exposure is difficult. Fortunately, to some extent, the legal issues connected with social media sites are not really all that new. In this article, we discuss the types of concerns you should have with your social media forums and how to address them. This includes specific items you ...
Continue reading...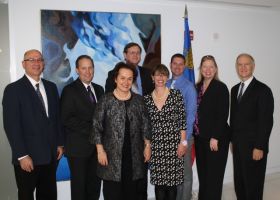 Liechtenstein Embassy to the United States, Washington, D.C.
Continue reading...